Finance
Centerville-based TruGolf Continues Forward with its Plans for a SPAC Merger with Deep Medicine Acquisition Corp.
If successful, the Special Purpose Acquistion Corporation merger is expected to close in the 4th Quarter of 2023, raise ~$96 million in new monies in the process, while also transforming the 30-ish-year-old TruGolf into a NASDAQ-listed, publicly traded company.
Additionally, TruGolf has now disclosed its goal of tripling annual sales to more than $60 million by the end of 2025.
After a number of figurative starts and stops, Berkeley, California-based Deep Medicine Acquisition Corp. (NASDAQ:DMAQ & DMAQR) has now filed its Prospectus for its planned merger with TruGolf via a Form S-4 Registration Statement with the U.S. Securities and Exchange Commission.
According to the news release Deep Medicine distributed earlier this month, it and Centerville, Utah-based TruGolf entered into a new and updated Merger Agreement on 21 July 2023 outlining plans for the two firms to merge in the fourth quarter of 2023.
As noted in my 3 April 2023 writeup titled Centerville's TruGolf Slated to 'Go Public' via a $125 Million SPAC-Merger,
"TruGolf traces its roots back some three decades when it was formed as a subsidiary of Access Software, a firm acquired by Microsoft in 1999 primarily for the success of its Links software title."
With this Prospectus filing by Deep Medicine, we now have greater clarity on both TruGolf and what to expect, post-merger, should the merger be consumated as currently contemplated.
---
TruGolf Summary
TruGolf is known today for its line of golf simulators, systems with prices that start in the low 10-figures but which are almost universally praised for their industry-leading graphical realism.
The company's current Hardware products fall into four categories:
Portable (the Vista Series);
Professional (Signature and Premium models);
Commercial; and
Custom ($10,000 to $100,000 per installation).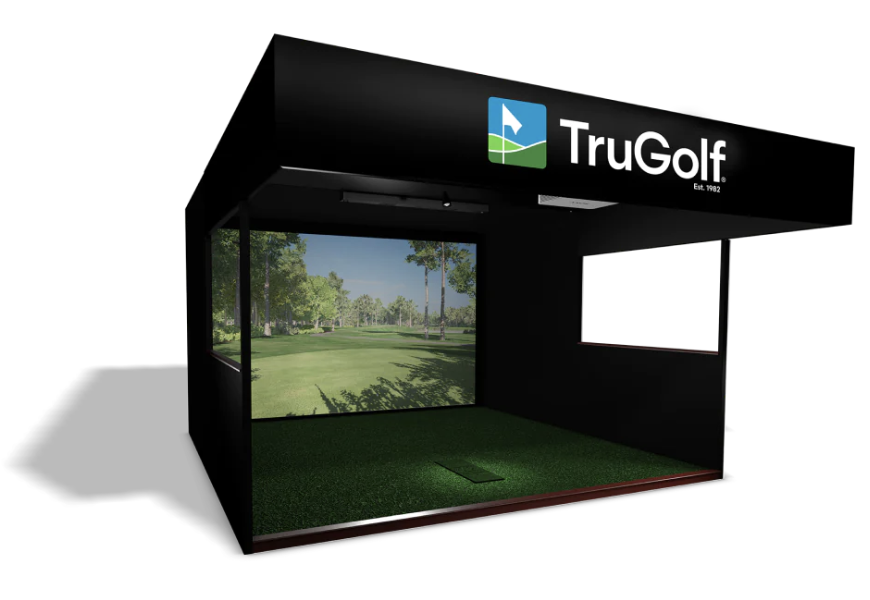 Conversely, TruGolf's Software products include
E6 Connect; and
The Apogee Launch Monitor.
---
AUTHOR'S NOTE:  Even though TruGolf  lists Apogee as a hardware component, to me the real value of Apogee is its software that delivers
A highly accurate swing analysis,
Patent-pending club path measurement,
Stereoscopic resolution (via Apogee's optimized camera system), and
Instant impact ball launch ("Instant Impact") to digital display response (within 300 milliseconds, up to 10X faster than competing systems).
Additionally, the Apogee software also enables users to see an "Instant Impact Replay" — an in-game, scrubbable video replay that highlights of both club and ball flight paths, including ball spin.
---
TruGolf Summary cont.
Interestingly, TruGolf's simulators are also designed to accept a separate hardware/software device from the company that allows users to play other sports with its indoor simulators via arcade-style games, including
Soccer,
Football,
Hockey,
Frisbee (and Frisbee golf),
Zombie dodgeball, and
Light gun target games,
an added feature set I was unaware of previously.
According to the Prospectus, TruGolf generated net revenue of $20.2 million (audited) for 2022 (ended December 31), and as of the S-4 filing, the firm had total current net assets at year-end of $13.7 million and a net loss of $957,000 for the year.
On a go-forward basis, the company estimates it will produce future revenue of
$31.4 million in 2023 (Estimated),
$42.5 million in 2024(E), and
$60.1 million in 2025(E).
TruGolf further broke-down its estimated 2023 gross revenue as follows:
$13.9 million (Simulator Hardware revenue), or 44.3% of the projected 2023 total;
$11.2 million (Partner Software revenue), or 35.7% of the total;
$5.9 million (Simulator Software revenue), or 18.8% of the total;
$0.4 million (Other), or 1.2% of the total.
Additionally, TruGolf disclosed in the Prospectus, that it plans to initiate a "global franchise strategy in the second half of 2023," with
2-3 franchise locations in 2023;
5-10 franchise locations in 2024; and
10-20 franchise locations in 2025.
It should be noted that TruGolf pointed out that its estimated revenue projections for 2023, 2024, and 2025 do not include any income from potential franchisees.
---
The SPAC Merger and Beyond
As reported in the April 3rd writeup, Special Purpose Acquisition Corporations —aka, SPACs or "Blank Check" companies as they're sometimes known — were launched in the 1990s as financial vehicles for
Achieving public company status (for private firms), and
Extracting value from those previously private firms,
New York City-based Deep Medicine went public as a Blank Check firm in December 2021.
Since then, its team has been looking for opportunities to merge with an operating company and take it public in the process via a SPAC Merger.
As it turns out, Deep Medicine did begin the process of merging with a different company in mid-2022, a Cayman Islands-based firm known as Chijet Motor Company / Chijet Inc.
However, that prospective transaction was terminated in September 2022 for reasons not explained in filings with the SEC.
As per the now-filed Deep Medicine Prospectus, the intent is that post-merger, Deep Medicine will be
Renamed TruGolf,
With gross proceeds from the SPAC Merger of $96 million (not counting the $9.6 million in cash TruGolf had on its balance sheet at the end of 2022), with
Up to 14 million Common shares of TruGolf post-merger: 8.1 million as Class A Common shares (with one vote each) and 5.9 million as Class B Common shares (with 10 votes each), plus
10 million preferred shares, with
110 million authorized shares in total.
Although the expectation is that the Deep Medicine - TruGolf merger will occur sometime during the 4th quarter of this year, there is no guarantee this will occur.
Additionally, there is no guarantee that post-merger shares in the "new" TruGolf will be listed on the Nasdaq Stock Market for sale or purchase, or at what price per share.
What is stated in the Prospectus, however, is that if the planned merger is not consumated by 29 January 2024, Deep Medicine "will be required to dissolve and liquidate the Trust Account by returning the then-remaining funds in such account to the public stockholders" (unless authorized otherwise by its stockholders).
By my experience, SPAC Mergers, as well as all public offerings, are tricky things.
But for now, the Deep Medicine - TruGolf merger is still on track.
---
AUTHOR'S NOTE: This writeup and analysis should not be considered a recommendation to purchase or sell any publicly listed securities. For detailed information about the proposed Deep Medicine - TruGolf merger, I recommend you review the Deep Medicine Prospectus as filed with the SEC via the company's Form S-4 Registration Statement.