Education
With a Likely Eye on its Future Valuation, Thoma Bravo-controlled Instructure Announces its $795 Million Acquisition of Parchment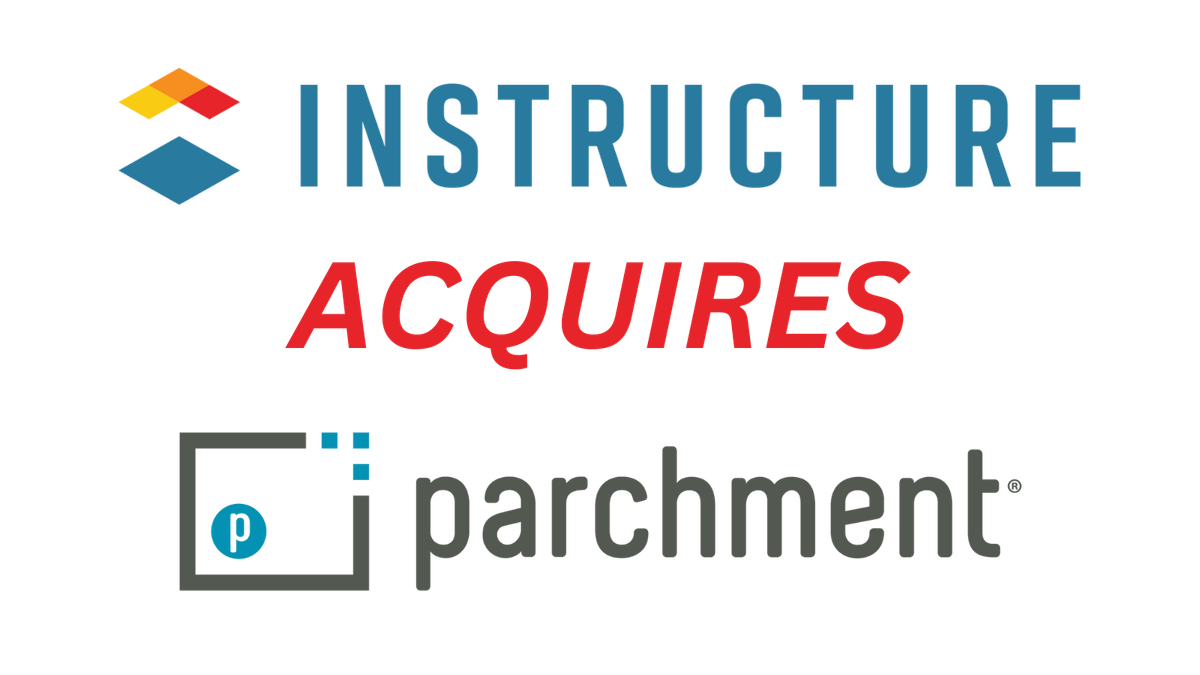 The cash and debt acquisition is expected to close in the first quarter of 2024 and will combine two industry leaders into a compelling EdTech platform with offerings that stretch from K-12 to HigherEd and business, while covering transcripts, certifications, trainings, and more.
On the same day it disclosed financial results for its third quarter (ended 30 September 2023), Salt Lake City-based Instructure Holdings (NYSE:INST) also announced it will acquire Scottsdale, Arizona-based Parchment for $795 million in cash and debt.
According to the Instructure news release, Parchment's estimated revenue for 2023 is $115 million.
As also explained in the Instructure announcement, its purchase price of $795 million in cash and debt for Parchment equals roughly 16X Parchment's estimated EBITDA (Earnings Before Income Tax, Depreciation and Amortization) for the current year.
In other words, that places Parchment's EBITDA at nearly $50 million annually, for an EBITDA margin of ~43%.
According to its annual report for calendar 2022 (ended December 31), Instructure had a net loss/comprehensive loss of $34.2 million on revenue of $475 million.
Conversely, through the first nine months of 2023 (ended September 30), the company generated nearly $395 million in revenue, which puts it more than $44 million ahead of revenue for the comparable period on a year over year basis for 2022 results.
That same nine-month period shows a net loss/comprehensive loss of $28.3 million, virtually identical results for the same YoY period in 2022.
So, with the contribution of Parchment's estimated EBITDA of roughly $50 million for 2023, will that be enough to push Instructure into the black for the year?
Officially? No, because the acquisition is not expected to close until after year end, specifically sometime in the first quarter of 2024.
But for 2024? Probably.
But that will depend upon a lot of factors which Instructure and its owner will need to determine.
---
Instructure Overview and its Fascinating Journey
According to Wikipedia, Instructure was formed in 2008 by two Brigham Young University graduate students as an educational technology company that provided educators with a web-based Learning Management System (LMS) known as Canvas.
After raising $90 million in total outside investment monies through February 2015, Instructure shares began trading on the New York Stock Exchange via a November 2015 initial public offering that raised nearly $81 million in gross proceeds.
By the end of 2018, Instructure's annual revenue had reached nearly $210 million, with a net loss of over $43 million for the year.
However, just over 11 months later, Instructure accepted an all-cash offer to be acquired by Thoma Bravo, a now 16-year-old, Chicago-based private equity firm with over $130 billion in assets under management (AUM).
The acquisition, which closed 24 March 2020, valued Instructure at roughly $2 billion at the time.
Some 16 months later, Thoma Bravo took the renamed Instructure Holdings public via a new IPO, one that (with the sale of overallotment shares), produced gross proceeds to the firm of over $287 million.
As disclosed in Instructure's 2022 annual report, Thoma Bravo (and its various funds) held 85.4% of the ownership of Instructure as of 31 December 2022.
And as of the close of trading on 30 October 2023 (the day Instructure announced its acquisition of Parchment), Instructure had a market valuation of over $3.5 billion.
That's a 75% pop of Instructure's valuation from when it was acquired by Thoma Bravo in March 2020, some 3.5 years ago.
However, that increase does not include any monies Thoma Bravo may have extracted from Instructure in the meantime.
---
The Parchment Acquisition
With this Parchment acquisition, Instructure explained to investors that it sees little overlap between the offerings of the two companies, or the markets they serve (as noted in the graphic below).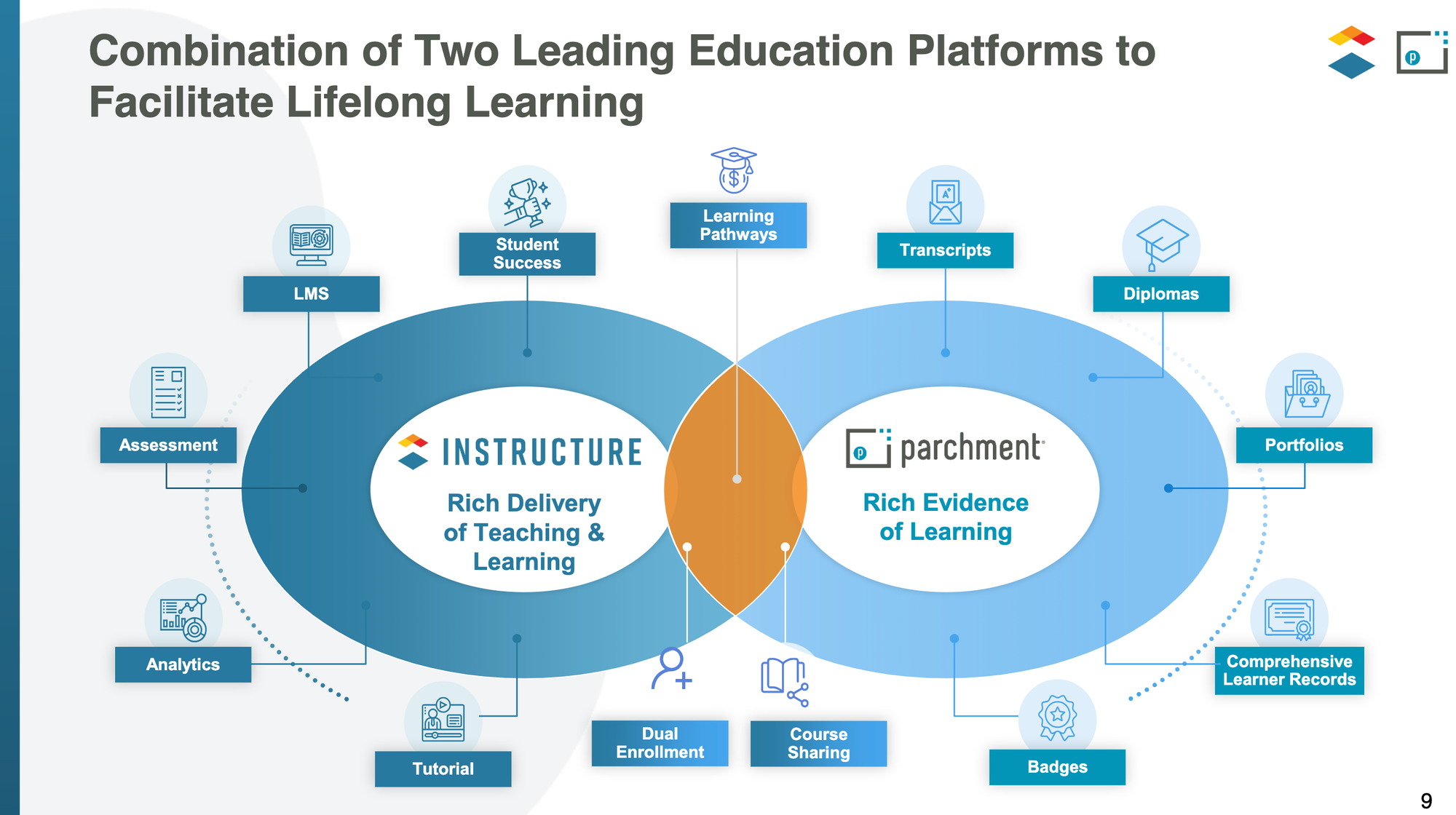 According to the acquisition announcement, Parchment has
Over 15,000 customers,
Worked with millions of students to
Exchange more than 165 million credentials during its 20-year history, and
Serves an annual Total Addressable Market of over $2 billion (a TAM that Instructure does not address today).
In simplest terms, "Parchment helps learners, academic institutions and employers request, verify and share transcripts, diplomas, and other credentials in simple and secure ways."
Conversely, Instructure claims on its website that it currently works with over 7,000 educational systems globally that serve over 6 million concurrent users.
Instructure CEO, Steve Daly, describes the benefit of the Parchment acquisition in this way:
"By adding Parchment to the Instructure Learning Platform, we will provide a verifiable and comprehensive digital passport of achievement records and outcomes for learners. Together we expand the Instructure platform for existing customers, welcome new Parchment customers and open new pathways for growth with multiple new solution categories."
According to its news release announcing its third quarter results for 2023 (ended September 2023), Instructure expects to produce revenue of $528 million to $530 million for all of 2023.
Taken in concert with the estimated $115 million Parchment expects to generate in 2023, that would push the combined revenue of Instructure to nearly $650 million for 2023 (were the two firms to complete their merger before the end of the year — which they will not).
Regardless, I expect the combined Instructure/Parchment to see a valuation bump of 20-25% once the acquisition is completed.
---
AUTHOR'S NOTE: Apologies to our readers for not filing a writeup on this acquisition earlier. Life just got a bit crazy during October for us.
That said, hopefully you find this reporting and analysis both helpful and insightful. DLP