Food
Three Utah-HQ'd Chains Named Among the Top in the U.S. by "Nation's Restaurant News"
Crumbl Cookies is tapped by NRN as the restaurant chain that added the most units in America in 2022 (363 new stores).
Additionally, Crumbl was listed by NRN as the 59th largest chain in the United States (by total revenue); while it, Café Zupas, and Mo'Bettas Hawaiian Style Food are named as the 4th-, 5th-, and 6th-fastest-growing restaurant chains in the U.S. in 2022, respectively (by percentage growth).
Nation's Restaurant News, the leading trade publisher in the food service industry, has once again dropped its annual ranking of restaurant chains in the United States with its 2023 "The Top 500" reports which include three Utah chains for special notice:
From a ranking standpoint, NRN reports that Crumbl's systemwide revenue came in at nearly $985 million in 2022 (including both franchisee sales and revenue by the corporation itself).
In one of nine separate writeups by the publication about some of the country's top-performing chains in 2022, NRN noted that Crumbl
More than doubled its locations last year to 689 units, up from 326 in 2021; while
Crumbl's total sales jumped by over 2.5 times to $984.7 million, roughly $1.84 million in average annual revenue per store in 2022.
Crumbl, Zupas, and Mo'Bettahs were each ranked by NRN as three of the Top 10 fastest-growing restaurant chains in 2022 based upon percentage growth on a Year-over-Year basis, with
Crumbl ranked as the 4th-fastest growing chain at 152.8% YoY growth;
Zupas ranked as the 5th-fastest growing chain at 111.9% YoY growth; and
Mo'Bettahs ranked as the 6th-fastest growing chain at 84.6% YoY growth.
---
Insights from the Co-Founder Brothers of Mo'Bettahs Hawaiian Style Food
Kalani and Kimo Mack, the co-founder brothers of Mo'Bettahs, were gracious enough to meet with me yesterday morning to talk about their now 15-year-journey as restauranteurs and the recognition the firm recently received from NRN.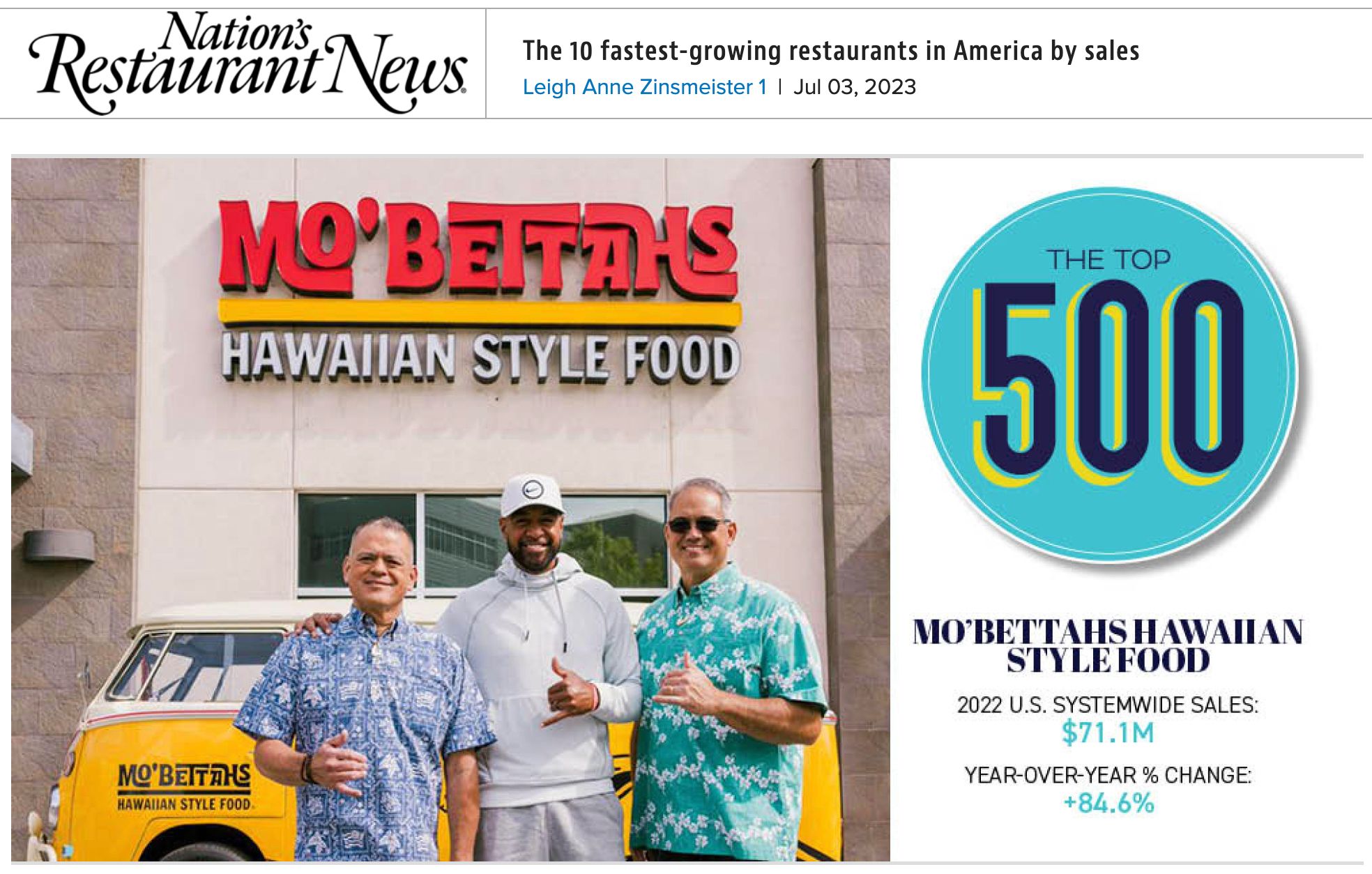 Here are some takeaways from that conversation.*
---
Kalani & Kimo Mack Share their Mo'Bettah Story with Utah Money Watch
Although they had ties to Utah (their dad is from Smithfield), it's not clear to me that either had a burning desire to move to the State of Deseret or jump into the restaurant business.
"We were beach bums," Kalani said, referring to the time he and his brother would spend at or on the ocean in their native Hawaii.
He explained that they would surf, hang out, then "grab a plate" at a beachside eatery, not a sandwich or fast food.
"I moved (my family) here in '98, probably 10 years before I should have," Kalani continued, and he said it was a tough transistion, one that led to personal bankruptcy.
However, when people in his Utah neighborhood would get together, Kalani would say, "Lemme make something (good) for you; forget sandwiches."
And so he did, even though to him it wasn't a big deal.
"I wanted to help teach people about the island culture, that 'plate lunch,' that island vibe," he explained.
And when he did, his neighbors raved,
"I would buy this food all the time."
Both brothers emphasized the role food plays in the Hawaiian, and Polynesian, culture.
"Food is the glue that brings everyone together," Kimo said. "It's (also) the neutralizer. You can't stay mad at someone once you've eaten something good with them, especially if it's something they prepared for you."
Kimo eventually joined his brother in Utah to start Mo'Bettahs, leaving behind a 15-year career as a bus driver.
It wasn't like they were trained for the food business, Kimo explained, so there was a lot of trial and error in their journey into restauranteuring, which began in 2008 (in the height of the Great Recession, I might add).
"We were approached very quickly by people who wanted to invest in us, to franchise from us," he added.
But just because someone had money was not a reason to go into business with them, Kimo explained, so they decided to forego the Franchisor/Francisee route and stuck with only corporate-owned stores.
By 2016, Mo'Bettahs had grown to six units.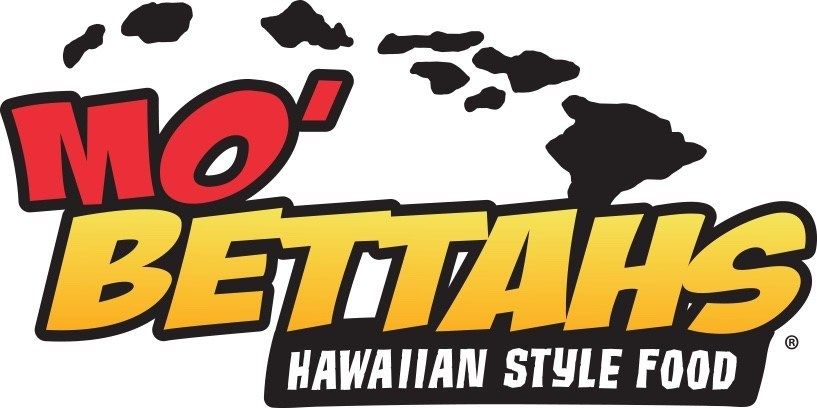 "(But) we were spread so thin, it was like we needed a company within the company (to run the company)," Kimo said.
It was then that the brothers realized that where they were falling short was in Human Capital.
"There's the saying that 'If you're the smartest guy in the room, you're in the wrong room,' well ... that was us," he stated.
"We can only move as fast as our people can," Kalani added.
So they began looking for a partner, an exploration that led them to Four Foods Group, a Utah-based investment firm that made a majority investment in Mo'Bettahs in 2017.
Four Foods has since rebranded and been repurposed as Savory Fund, the restaurant-focused investment arm of one of Utah's oldest and largest venture capital firms, Mercato Partners.
And today, Savory is led today by CEO and Co-Founder Shauna Smith and  Andrew K. Smith, Savory's Chairman/Co-Founder (and Shauna's husband).
In the ensuing six years since that inital investment, the brothers explained, Mo'Bettahs has jumped to 39 locations at the end of 2022, each pulling in roughly $1.9 million in annual sales in an average footprint of 2,800 square feet.
"(With Savory), we now have the right people on the bus," Kimo said, alluding to both his time as a busdriver and the advice given by noted author and business consultant, Jim Collins.
"We plan to open our 50th store by the end of the year (in Draper)," Kalani added.
If my math is right, that would put the growing chain on track to hit close to $95 million in revenue in 2024, and that's if Mo'Bettahs doesn't add any new units next year.
However, I also happen to know that neither Savory or the Mack "bruddahs" have no intent on slowing down their plans to bring the "real Hawaii" food experience to mainlanders across America.
In closing, thanks to Kimo and Kalani to taking time out of their busy day yesterday to visit with me, especially in the midst of their 15-year Anniversary week celebrations
Additionally, major props to both Crumbl Cookies and Café Zupas for their success in 2022.
Last of all, best wishes to all three chains for their ongoing success in the future.
---
* -  NOTE:  Only Mo'Bettahs responded to requests yesterday for comments for this story.