Sales+Marketing
Salt Lake City-based Quotient Technology has Been Acquired in an All-Cash, $430 Million "Take Private" Transaction by New Jersey-based Neptune Retail Solutions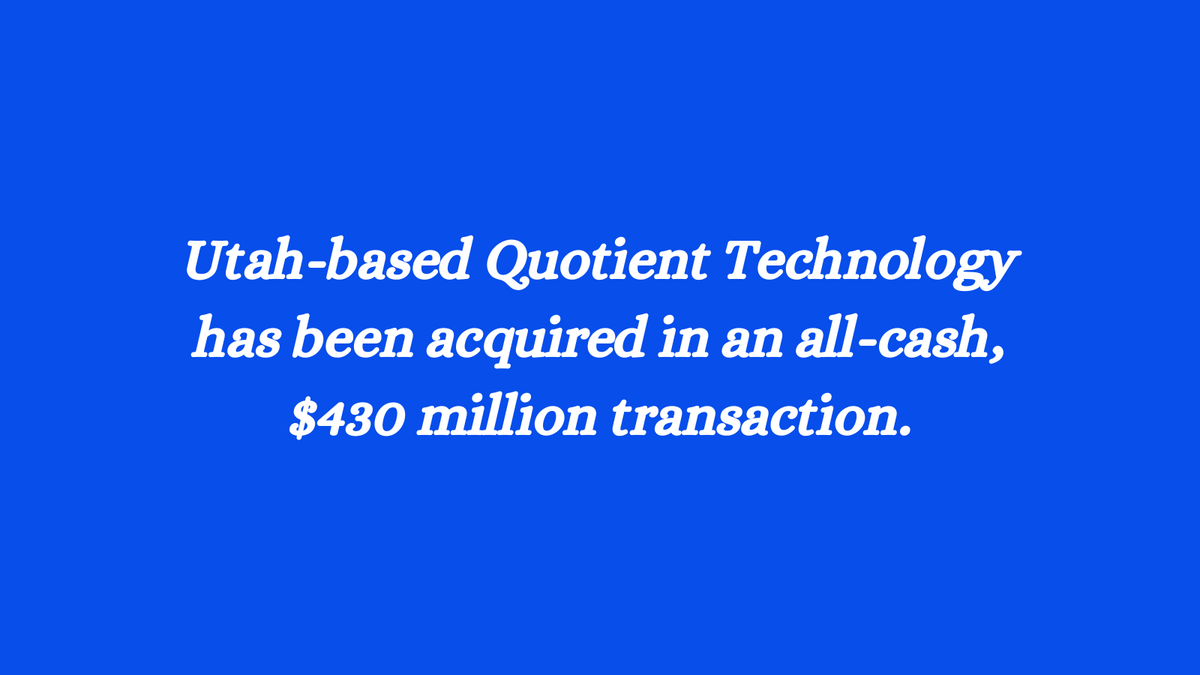 Roughly 10 weeks after the proposed agreement was initially disclosed, New Jersey-based Neptune Retail Solutions (with the backing of Charlesbank Capital Partners, its majority owner), announced yesterday, 5 September 2023, that it has closed its acquisition of Salt Lake City-based Quotient Technology (NYSE:QUOT) in a $430 million, all-cash, "take private" transaction.
In the Form 8-K Quotient filed with the U.S. Securities and Exchange Commission yesterday, the company's "... Common Stock ceased trading on the (New York Stock Exchange) effective prior to the opening of trading on September 5, 2023."
Quotient is known as a "a digital promotions and media technology company."
Under terms of the agreement, Quotient will be folded into Jersey City, New Jersey-based Neptune, "... a leading omnichannel retail marketing company ... (that) includes in-store marketing rights in (North America's) largest grocery, dollar (stores) and drugstores, including Ahold, Albertson's, CVS, Family Dollar, Kroger, Loblaws, Publix, Rite-Aid, SEG, and Walgreens ..."
Additionally, via Neptune's "... cashback app, Checkout 51, (the company captures) first party shopping data via receipt scans from key retail locations across the U.S. and Canada, including Walmart, Target, Costco, and the retailers noted above."
According to the news release announcing the proposed acquisition,
"Quotient's shareholders ... receive(d) $4.00 per share in cash, representing a premium of approximately 36.0% to Quotient's 30-day volume weighted average price as of  ... market close on 16 June 2023."