Health
NVIDIA's $50 Million Investment in Recursion Pharmaceuticals Proves Recursion is on the Right Path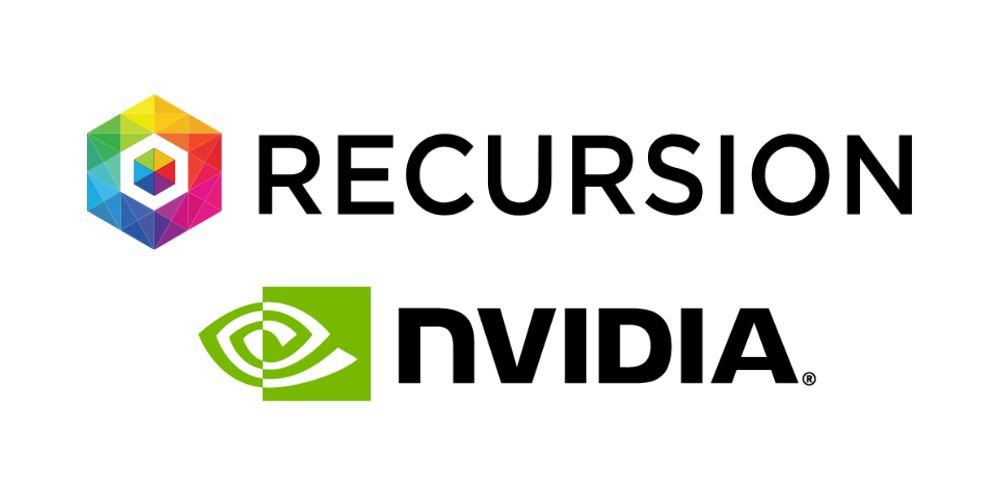 The surprise $50 million PIPE investment by one of the hottest companies on the planet into Salt Lake City's top "TechBio" company has nearly doubled Recursion's market capitalization in just two days to almost $2.3 billion.
In other words, NVIDIA's $50MM private investment has boosted Recursion's value by over $1.1 billion in less than 48 hours.
On the surface the essence of the headine of the Wednesday morning news release was fairly straightforward and can be boiled down to this:
NVIDIA Corporation (NASDAQ:NVDA) had privately purchased $50 million in shares of Salt Lake City-based Recursion Pharmaceuticals (NASDAQ:RXRX) in a Private Investment in Public Equity (PIPE) transaction.
Additionally, the press release headline stated that the two companies would be collaborating on a go-forward basis.
For Recursion's part, the announcement explains that it plans to
"... accelerate development of its Artificial Intelligence foundation models for biology and chemistry," by
Distributing its AI foundation models via the NVIDIA DGX Cloud to other biotech companies, for possible
"... commercial license/release on BioNeMo, NVIDIA's cloud service for generative AI in drug discovery."
Conversely, NVIDIA will help Recursion "optimize and scale (its) ... foundation models (by)  leveraging the NVIDIA AI stack and NVIDIA's full-stack computing expertise."
Additionally, the parties expect Recursion will utilize the BioNeMo cloud-based tools to "... support (discovery and development of) its internal (product) pipeline, as well as its current and future partners."
When analyzing the importance of this investment and collaboration, Recursion's Co-Founder and CEO Chris Gibson, Ph.D. said,
"With our powerful dataset and NVIDIA's accelerated computing capabilities, we intend to create groundbreaking foundation models in biology and chemistry at a scale unlike anything that has ever been released in the biological space."
So what does it all mean?
---
A Peak Behind the Curtain for Context and Perspective
In case you've been on a months-long-holiday, NVIDIA shareholders have been strapped onto a rocket ship of late as the share price has quadrupled since last October to nearly $460/share, giving the leading creator of Graphic Processing Unit chips a value of over $1 trillion. (Yes. One Trillion!)
Initially developed to produce more realistic on-screen video and images, NVIDIA's GPUs have also proven to have dramatically positive usage in servers, especially in cloud computing settings, such as BioNeMo. Hence, the dramatic share price run-up over the past nine months.
On the other hand, I remember when I first heard the Recursion investor pitch in what was probably 2016 at the VentureCapital.org Investor's Choice Conference.
As I recall it, Gibson's 10-minute presentation was powerfully straightforward:
The drug discovery and development industry (as we know it) is broken, as it
Takes too long (10+ years in 2016) and
Costs too much money ($1.1 billion back), with
The Drug Discovery/Development highway littered with thousands of prospective drug candidates that did NOT pan out.
To fix these problems, Recursion planned to
Create a massive database of known human disease and conditions (now made infinitely possible with CRISPR),
Build software-driven systems to automatically test thousands of candidate compounds simultaneously against the known universe of human disease and conditions, with
Results aggregated in a massive Resursion database,
All powered by supercomputers.
What does the Recursion approach produce versus the traditional path to drug discovery and development?
As shown in the slide below, rather than pursue one million drug candidates in an effort to solve one disease/condition, Recursion examines one million candidates against all known diseases and conditions via the entire genome.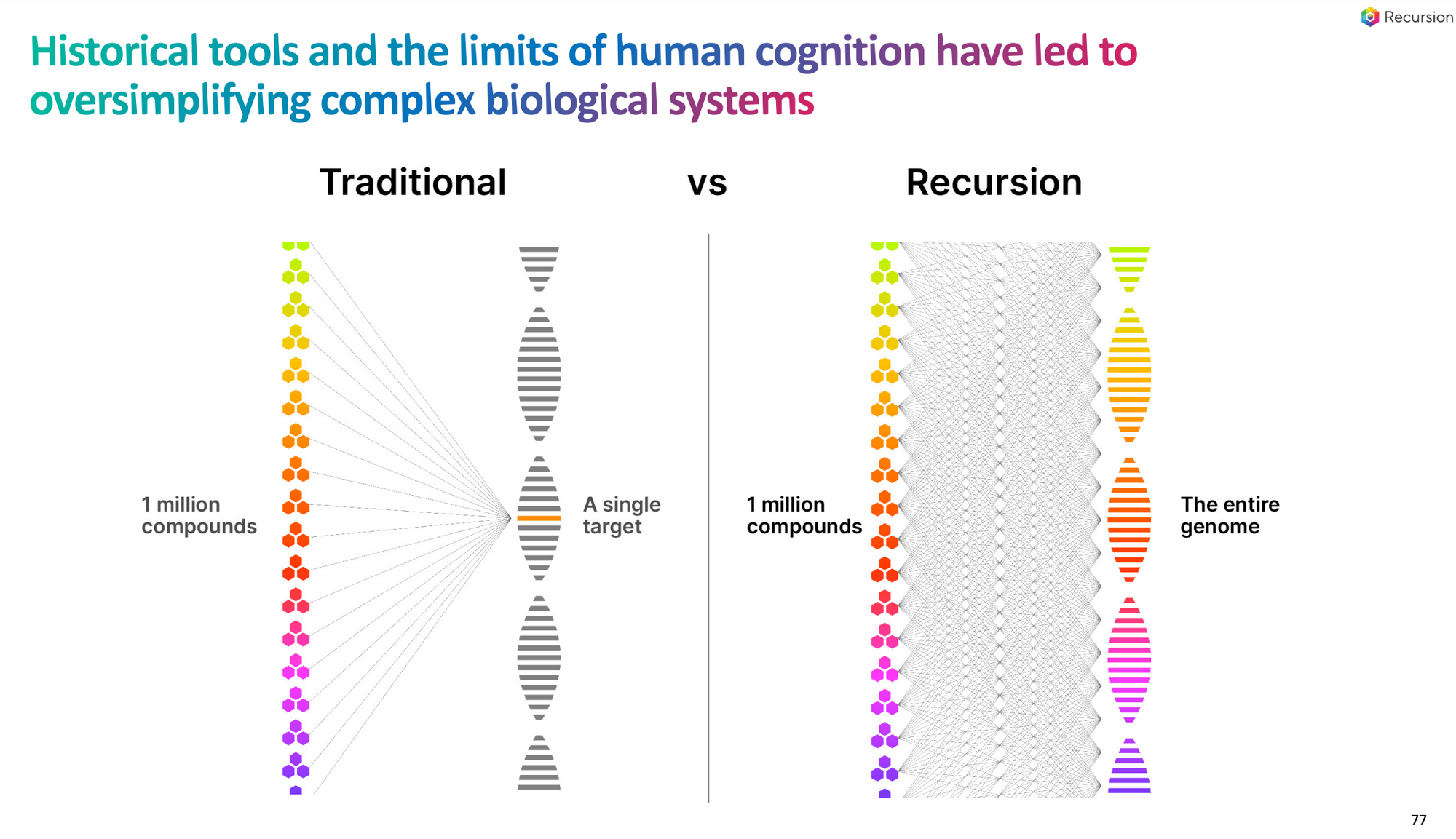 After raising $465 million since its founding in 2013, Recursion completed an Initial Public Offering in early 2021 raising $500 million in additional funds in the process.
As I reported at the time (via Deseret Business Watch), Recursion then had
Four compounds in Phase I Clinical Trials,
Two compounds in Pre-Clinical Development, and
An additional 29 diseases where it had identified (and was developing) targeted compounds to address various disease states, with said compounds in Early Discovery through Pre-Clinical Development.
But today, just over two years later, Recursion has turned into an AI/Machine Learning drug discovery and development powerhouse, with the Recursion Operating System (Recursion OS) driving everything inside the company.
The results? Recursion now has
Over 23PB* (petabytes) of proprietary and "relatable" in vitro biological and chemical datasets;  
Over 3 trillion ML-based relationships it has drawn across its datasets;
Produced over 700 billion hiPSC-derived cells** since 2022; and it
Conducts more than 2.2 million*** wet-lab experiments per week profiling genes and compounds via its automated robotic systems.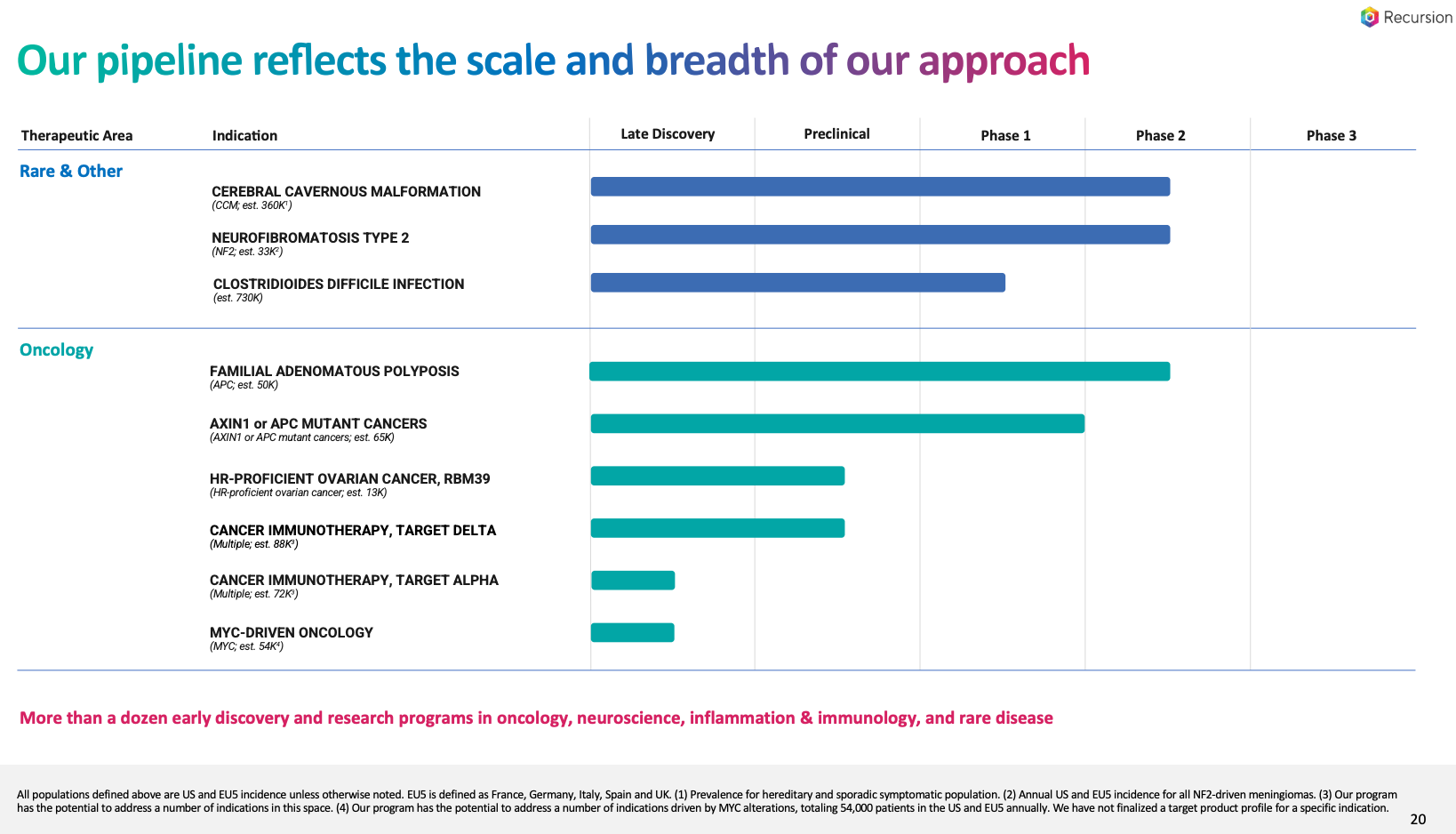 And as noted in the slide above, Recursion presently has
Three drug candidates in Phase 2 clinical trials,
Two drug candidates in Phase 1 clinical trials,
Two drug candidates in Pre-clinical status, and
More than a dozen early drug discovery and research programs across such areas as oncology, neuroscience, inflammation, immunology, and rare disease.
In other words, Recursion is rocking!
And the NVIDIA investment just validates this point.
---
AUTHOR'S NOTE:  I don't currently invest in companies I report about, but if I did, Recursion would certainly be high on my list of prospective Utah-based portfolio candidates.
---
* - 23PB = 23,000,000,000,000,000 bytes of data.
** - hiPSC-derived cells are known as "human-induced pluripotent stem cells." These "are reprogrammed cells that have hallmarks similar to embryonic stem cells including the capacity of self-renewal and differentiation into cardiac myocytes."
*** - That's over 110 million wet-lab experiments annually.
**** - Should I ever decide to invest in companies I report on, I will publicly disclose that information.