Energy
Dominion Energy Agrees to Sell Questar to Enbridge for $4.3 Billion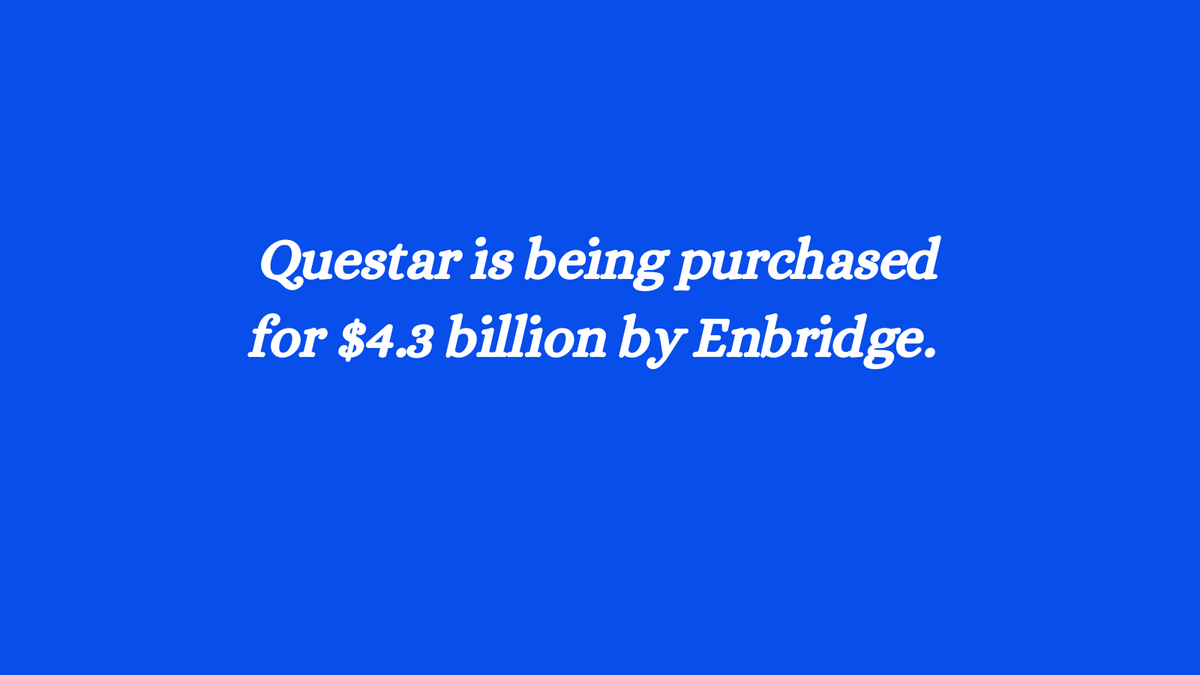 Virginia-based Dominion Energy (NYSE:D) announced yesterday it is selling Questar to Calgary, Alberta-based Enbridge (NYSE:ENB) for $4.3 billion* ($3.0 billion in cash and $1.3 billion in assumed debt).
According to Enbridge's Form 8-K filing with the U.S. Securities and Exchange Commission, Dominion and Enbridge have actually entered into two additional yet separate/simultaneous sales/acquistions, with Enbridge also acquiring from Dominion
Eastern Ohio Gas Company (EOG) for $6.6 billion* ($4.3 billion in cash and $2.3 billion in assumed debt), and
Public Service Company of North Carolina (PSNC) for $3.1 billion* ($2.2 billion in cash and ~$0.9 billion in and debt assumption).
According to the Enbridge news release announcing its three acquistions, Enbridge will become the largest, by volume, gas utility business in North America after the close of the acquisitions, with delivery of ~9 billion cubic feet of gas per day (Bcf/d) to approximately 7 million customers.
For context, Questar currently serves "more than 1 million customers in Utah, southwestern Wyoming and a small portion of southeastern Idaho."
According to Greg Ebel, Enbridge President and CEO:
"The assets we are acquiring have long useful lives and natural gas utilities are 'must-have' infrastructure for providing safe, reliable and affordable energy.  In addition, these gas utilities have each committed to achieving net-zero greenhouse gas emissions by 2050 and are expected to play a critical role in enabling a sustainable energy transition.... We look forward to serving our customers with dedication and to providing them with safe, reliable, and affordable energy service for years to come."
As expected, the Questar and other Enbridge acquistions are subject to federal and state regulatory review and approval.
However, Enbridge believes the acquisitions will close in 2024.
---
* — All monetary figures in this writeup refer to U.S. dollars.